Alzheimer's Association International Conference | July 16-20, 2023 | Amsterdam, Netherlands and Online
AAIC Abstract Submission Guidelines
Information on presentation types, themes and topics.
On This Page:
Presentation Types
Authors may select from three presentation formats when submitting an abstract for AAIC. These include:
AAIC Poster Presentation (individual)
Grouped by topic.
An author may present multiple posters as long as they are scheduled on different dates.
Poster format details will be provided in the spring.
AAIC Oral Presentation (individual)
10 minutes per presentation.
Oral sessions are comprised of six presentations per oral session and are grouped by the AAIC Scientific Program Committee.
The total length of one oral session is 75 minutes.
A person may be the presenting author on one podium presentation, excluding a developing topic session. A person may not present within an oral session and a featured research session. Invited speakers are not eligible for oral presentations. (Plenary and Symposium)
Submitted oral presentation abstracts that are not selected will be automatically considered for a poster presentation.
AAIC Featured Research Session (FRS)
Featured Research Sessions (FRS) allow researchers to submit an entire session organized around a topic.
One organizer is responsible for initiating the submission of the proposal (and confirming completeness) and the session speakers will be able to enter their individual abstract details. All session details and abstracts must be submitted by the deadline.
One FRS typically consists of four presentations — but up to six presentations may be submitted — and one to two session chairs (75 minutes total).
Non-accepted FRS abstracts that receive an appropriate average review score will automatically be considered for an optional poster presentation. Find more information on the FAQ page.
FRS presenters may apply for an AAIC Travel Fellowship. Submit an application via the abstract submission process.
AAIC Travel Fellowships
A limited number of travel fellowships are available to AAIC presenting authors. Awarded in various packages, AAIC Travel Fellowships may include one, two or three of the following: complimentary AAIC registration, housing and/or airfare support.
Application process: In order to apply, the applicant must be indicated as the presenting author on a submitted abstract for AAIC and complete the travel fellowship application requirements in the last step of the abstract submission process. Learn more about AAIC Travel Fellowships.
Themes, Topics and Subtopics
Selection of a theme, topic and subtopic for the abstract allows submitters to "self-identify" the area in which the abstract best fits. This identification is the first step in sorting abstracts for the Scientific Program Committee, who will take this identification into consideration and group related abstracts with similar topics into the same session. Selection of a primary theme, topic and subtopic is required.
Accepted themes:
Theme: Basic Science and Pathogenesis
Topic: Genetics

Blood-borne markers of CNS disease
Endophenotypes
Epigenetics
Genetic factors of Alzheimer's disease
Genetic factors of non-Alzheimer's disease
Genetics of cognitive aging
Genetics of systems biology

Topic: Human Neuropathology

Alpha-synuclein
Amyloid
Clinico-pathologic correlations
Etiopathogenesis--links to brain disease
Imaging-pathologic correlations
Novel methods
Other
Proteinopathies
Selective vulnerability
Tau
Topography of pathology
Vascular

Topic: Molecular and Cell Biology

α-synuclein
APP/Abeta/Amyloid
Axonal transport
Calcium homeostasis
Cell cycle disruption
Endosomal-lysosomal dysfunction
Enzyme activities
Innate immunity
Metabolic stress
Mitochondrial function/energetics
Neurodegeneration and neuroprotection
Neuroinflammation
Other
Oxidative stress
Presenilins
Protein-protein interactions
Proteostasis
Receptors
Signal transduction
Stem cells, IPS cells
Systemic immunity
Synaptic disruption
Tau
TDP-43
Vascular factors
Theme: Biomarkers
Topic: Biomarkers (non-neuroimaging)

Differential diagnosis
Human neuropathology
Longitudinal change over time
Method development and/or quality control
Multi-modal comparisons
Novel biomarkers
Plasma/serum/urine biomarkers
Prognostic utility
Use in clinical trial design and evaluation

Topic: Neuroimaging

Animal imaging
Differential diagnosis
Evaluating treatments
Imaging and genetics
Multi-modal comparisons
New imaging methods
Normal brain aging
Optimal neuroimaging measures for early detection
Optimal neuroimaging measures for tracking disease progression
Theme: Clinical Manifestations
Topic: Neuropsychiatry and Behavioral Neurology

Assessment/measurement epidemiology of neuropsychiatric/behavioral and psychological symptoms
Clinical aspects of behavioral neurology and neuropsychiatry
Dementia
Mild cognitive impairment/prodromal disease
Normal cognition/subjective cognitive decline/preclinical disease
Interventions
Treatment development and clinical trials for neuropsychiatric symptoms

Topic: Neuropsychology

Computerized neuropsychological assessment
Early detection of cognitive decline with neuropsychological tests
Measurements of function
Multicultural issues in assessment of dementia
Neuropsychological correlates of physiologic markers of cognitive decline/dementia
Neuropsychological profiles of dementia
Normal cognitive aging
Theme: Dementia Care and Psychosocial Factors
Topic: Dementia Care Research (research projects; nonpharmacological)

Assessment and care planning
Behavioral interventions
Community care
Cross-cultural studies and cultural/linguistic adaptations
Family/lay caregiving
Instrument development, program evaluation and translation
Long-term care
Therapeutic strategies and interventions
Use of technologies

Topic: Psychosocial Factors and Environmental Design

Environmental design and technology
Living with dementia and quality of life
Social networks
Theme: Dementia Care Practice
Topic: Dementia Care Practice (descriptive)

Implementation of person-centered care
Managing dementia-related behaviors
Other innovative programs and practices
Supportive and therapeutic environments
Transition and coordination of services
Workforce initiatives
Theme: Drug Development
Topic: Human

Human trials: Anti-amyloid
Human trials: Anti-tau
Human trials: Cognitive enhancement
Human trials: Inflammation
Human trials: Nutraceuticals and non-pharmacological interventions
Human trials: Other
Human trials: Other behavioral symptoms
Novel outcomes measures
Prevention (clinical)
Trial design

Topic: Nonhuman

Lead optimization studies
Natural products and nutraceuticals
Nonpharmacological interventions
Novel screening strategies
Target identification and validation studies: Amyloid
Target identification and validation studies: Cognitive enhancement and other behavioral symptoms
Target identification and validation studies: Inflammation and innate immunity
Target identification and validation studies: Neuronal and synaptic protection
Target identification and validation studies: Other
Target identification and validation studies: Proteostasis
Target identification and validation studies: Tau
Theme: Public Health
Topic: Epidemiology

Innovative methods in aging (i.e. assessment methods, design, recruitment strategies, statistical methods, etc.)
Prevalence, incidence, and outcomes of MCI and dementia
Risk and protective factors in MCI and dementia

Topic: Health Services Research

Cost-effectiveness of treatment/prevention and diagnosis
Cost of care
Policy and plans
Services

Topic: Prevention (nonpharmacalogical)

Cognitive interventions
Exercise
Lifestyle factors (e.g., smoking, etc.)
Multidomain
Nutrition
Other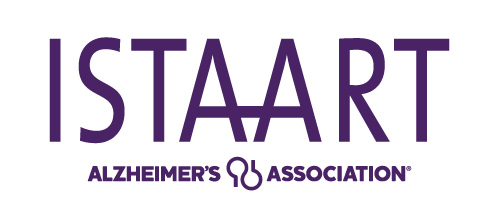 Advance Your Career
Join ISTAART, an inclusive global network of scientists, clinicians and dementia professionals. With newly discounted rates and free memberships for students, it's easier than ever to become a part of ISTAART.
Learn More
> 1200px
lg > 992px
md > 768px
sm < 767px
xs